Sweetheart Special



Devoted Wife Cherry Plaque

Special Price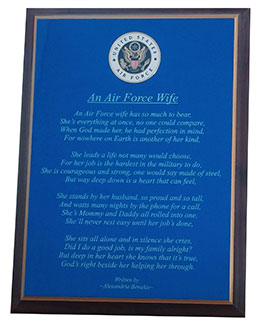 A timeless token of your affection. The poem, laser engraved onto a Metal Plate then mounted onto a 9"x12" Cherry Wood plaque w/gold border clearly states the unique qualities that make your wife special to you and anyone who knows her.

Dimensions: 9"W x 12" High


Laser Engraved into the plate color of your choice


In Stock and ready to ship.

Available for Army, Navy, USAF, USCG wife (Air Force wife shown)