Soldier Photo Plaque #109
$69.00
The beauty of these Laser Engraved Photo plates is they
will never tear or fade. Design your own Plaque.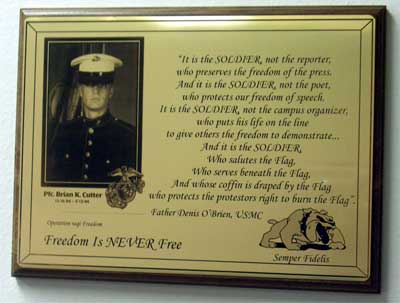 12"x 9" plaque with photo and "It's The Soldier" poem laser engraved
on a gold plate and affixed to a wood plaque of your choice. $69.00


Includes 2 lines of laser engraved text.
Click Here to Email a high resolution image to us

If you can't send via email, send them through the post
office. Our address is

All American Gifts
870 E. Research Drive, Suite 8
Palm Springs, CA 92262
Paper Picture(s) will be returned to you when we ship your order.

This item is so highly customizable you may Have Questions or Need More Information?
Call 1-800-344-8421
Business Hours M-F 8AM-5PM PST